SOIL turns human waste into compost in Haiti
(Read article summary)
Rural residents of Haiti most easily see the benefits of composting human waste, says Sasha Kramer, the co-founder of SOIL.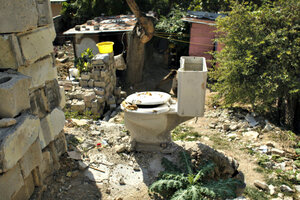 Eduardo Munoz/Reuters/File
Name: Sasha Kramer
Affiliation: Sustainable Organic Integrated Livelihoods (SOIL)
Location: Cap-Haitien, Haiti
Bio: Kramer is the co-founder and executive director of SOIL, a nonprofit organization in Haiti dedicated to protecting soil resources by providing ecological sanitation services and turning human waste into nutrient-rich compost.
How did you found SOIL? Was your organization founded as a response to the 2010 earthquake?
I've been in Haiti since 2004 when I was finishing my doctoral research. With my work focusing on ecology and human rights, I came to realize that the most prevalent human rights abuse is the inaccessibility to basic services that we take for granted. I had a previous interest in toilets from a nutrient-cycle perspective so in 2006 we founded SOIL and our EcoSan initiative in Cap-Haitien. After the 2010 earthquake we expanded to Port-au-Prince.
RELATED: World Toilet Day: Top 10 nations lacking toilets
What are some ways SOIL's efforts have benefited local agriculture?
Right now we're in the beginning phases of distributing our compost to local farmers and thus far have used it in some small-scale gardens and in our very own experimental garden. Our blog highlights some of the crops we've harvested using our compost, like cabbage and corn. We want to show the community how to use it and how beneficial it can be before we market it on the larger scale.
---