Looking for new ideas? Get yourself to the developing world
(Read article summary)
From jeans to medical devices, products from India and China are disrupting markets in the West.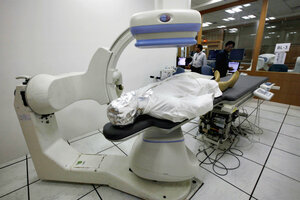 Danish Siddiqu/Reuters/File
Could the next big breakthrough in medicine or technology come from the developing world?
We Americans may think of poorer nations as hotbeds of war and disease, a place to send our charity checks. But emerging economies are actually an invaluable breeding ground for innovations that could change lives in the United States.
In a process known as "reverse innovation," multinational corporations are rolling out cheap, easy-to-use products in Africa, India, and China and then bringing them "home" to Western markets.
IN PICTURES: China's space program
Examples of reverse innovation range from the prosaic – low-cost Levi's jeans that debuted in China and hit American stores last spring – to the revolutionary: a portable, seven-pound heart monitor developed by General Electric engineers in Bangalore, India.
---