Mobile tech helps farmers save time, water, electricity
(Read article summary)
An innovation from an India-based company may transform the way farmers manage their irrigation systems by giving them the ability to turn pumps on and off remotely with their cell phones.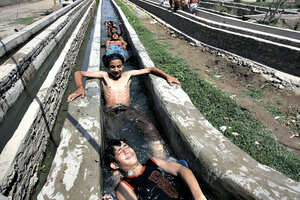 Akram Shahid/Reuters/File
Managing irrigation pumps and water systems is a difficult and costly task for many farmers in developing countries.
The amount of time and energy farmers spend watering their crops often compromises time that could otherwise be used for family and community obligations. It also compromises their safety at night, when they are most vulnerable to animal predators.
A new innovation from the India-based company Ossian Agro Automation, called Nano Ganesh, seeks to transform the way farmers manage their water systems by giving them the freedom to turn pumps on and off, from any location, with their mobile phone.
IN PICTURES: India Power Outage
Santosh Ostwal, cofounder of Nano Ganesh, created mobile-based technology that gives farmers the flexibility to remotely switch water pumps on and off from any distance using cell phones or landlines. Ostwal, an electrical engineer by trade, had a personal connection to the plight of farmers. After observing the hardships his 82-year-old grandfather faced in tending his farm and monitoring the availability of electricity to operate water pumps, he began to construct a remote control that farmers could use within 2 kilometers (1.2 miles) of the farm.
He later modified the remote control by expanding its range to 10 kilometers (6.2 miles). In 2008 Ostwal altered the technology so that it could function over an unlimited range granting farmers the flexibility to start and stop the flow of water from anywhere there is a mobile connection.
Nano Ganesh also allows farmers to check the availability of electricity to the pump and verify the on and off status of its operation. Both of these features offer cost-saving benefits to farmers who otherwise may not be able to shut their pumps off before their fields have become overly saturated.
---