Five cities and the groups that are making them green
(Read article summary)
Around the world cities are promoting urban agriculture to help feed their growing populations.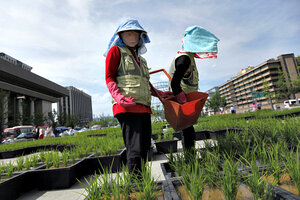 Woohae Cho/Reuters/File
Currently more than half of the world's 7 billion people live in urban areas, and according to the United Nations (UN) that number is expected to reach 65 percent by 2050. Dramatic population growth strains food resources and raises the challenge of feeding urban dwellers, particularly the poor. According to the UN, poverty is now growing faster in urban areas than in rural areas—there are currently 1 billion people living in urban slums.
Today, Nourishing the Planet highlights five cities and the organizations that are helping these cities become food-sufficient:
1. Dar es Salaam: More than 45 percent of Tanzania's 2.3 million unemployed people live in the commercial capital, Dar es Salaam. Studies by the Tanzanian Department of Rural Development and Regional Planning have found that there is significant reduction in poverty among residents who practice urban gardening in Dar es Salaam. In 2011, 68 percent of residents are growing food and raising livestock in the city. According to the International Food Policy Research Institute, 90 percent of vegetables and 60 percent of the milk supply are produced locally.
---