Gardening projects change lives of troubled veterans
(Read article summary)
Encouraging recovering military veterans to work in community gardens helps lift them out of depression, increases their self-esteem – and even gets them eating better, says Vietnam War vet and gardening guru Howard Hinterthuer.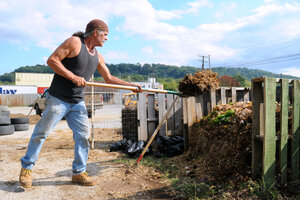 AP Photo/Chattanooga Times Free Press/Allison Love
Name: Howard Hinterthuer
Affiliation: Organic Therapy Program
Bio: Howard Hinterthuer served as a medic in Vietnam in 1969 and 1970. Returning from the war, he found solace by establishing various gardens in Virginia. Today, Howard works as a Peer-to-Peer Mentor for the Organic Therapy Program (OTP), a veterans' recovery project that promotes healing through organic gardening.
You recently gave a Ted Talk on the Organic Therapy Program (OTP). Can you tell us how the OTP started and how you, as one of its Peer-to-Peer Mentors, personally became involved with helping veterans recover from the war by gardening?
William Sims, a Vietnam veteran of the 101st Airborne Division who served from 1966 to 1967, started the Organic Therapy Program. Mr. Sims was wounded after being in Vietnam for about 9 months, and returned home to Milwaukee. He was able to deal with the stress of coming home and experiencing combat by puttering around in his mom's garden. He remembered that.
The Center for Veterans Issues has about 300 or more formerly homeless veterans in transition with PTSD, traumatic brain injury, and depression. These veterans come to us and we provide a wrap-around service to deal with their different problems. Mr. Sims figured that if gardening was good for him, then it would be good for other veterans as well. So he began creating raised-bed gardens to help veterans cope with their problems.
---