Search for Common Ground uses TV soaps to promote peace
(Read article summary)
Now in its 30th year Search for Common Ground uses a variety of methods, including TV soap operas, to build peace and avoid conflict in 30 countries around the world.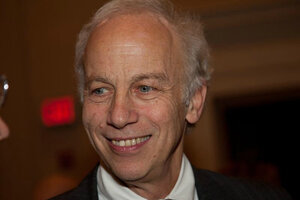 Byron Buck
Peace building and conflict resolution conjure up images of persuading rival leaders to sit down at a table to talk.
They don't often bring to mind producing a TV soap opera.
But in 17 countries around the world, soap operas are one of the principle ways the nonprofit Search for Common Ground is breaking down barriers between religious, ethnic, and economic groups and building a basis for ending or averting violence.
RELATED: 8 ways to find common ground
Each of the soap operas concerns a soccer team, simply called called "The Team," and is adapted to fit the situation in each country. In Kenya, the members of the team come from different tribes; in Morocco, they're both urban and rural, rich and poor. In the Democratic Republic of the Congo (DRC), the players on an all-girls team are all having problems related to sexual violence.
"The messages are interjected into the plots," says John Marks, president and founder of Search for Common Ground. In much the way the US television program "All in the Family" dealt with the thorny social issues of the 1970s, these stories make for compelling viewing while making a point about choosing nonviolence, he says.
Now marking its 30th year, Washington D.C.-based Search for Common Ground has become the biggest conflict-resolution and peace-building organization in the world, with offices in 30 countries and a staff of about 600. It also works with about a thousand partner groups around the world.
---