Want teens to do volunteer work? Make it social.
(Read article summary)
Half of American teenagers volunteer, largely because their friends do.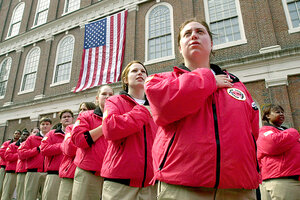 Charles Krupa/AP/File
More than half of American teenagers and young adults volunteered last year, and the best way to enlist this group turns out to be peer pressure: Three quarters of people ages 13 to 22 whose friends volunteer regularly also do so, which is nearly twice the number of those who pursue voluntary activities based on their concern about particular social issues.
Those were the key findings of new research results released today [Oct. 24] by DoSomething.org, a group working to get young people involved in social change.
The study, based on data from 4,363 young people, found that the most common form of support by volunteers was assistance with fundraising. Thirty-eight percent of those in the survey said they helped with solicitations, prompting the study's authors to conclude: "Young people are a secret weapon. A donation pitch from a passionate teen is way more influential than a cold call or that newsletter you were thinking about sending."
QUIZ: Are you as well read as the average 10th grader?
The study also found a gender divide in volunteer activities. Boys were more likely to undertake physical activities such as environmental cleanup or working with younger children in sports, while girls were more likely to help the homeless and other needy people or to work with arts groups.
Among other findings from the survey:
• Students in private high schools were 25 percent more likely to volunteer than those in public schools.
• Seventy percent of young people from wealthy families volunteered, compared with 44 percent of those from low-income households.
---