Len Stanmore mixes adventure with helping others
(Read article summary)
He's about to set a world record by climbing the highest peaks on seven continents and crossing the four most inhospitable deserts. But when he added a charitable aspect to his quest he made it even more meaningful.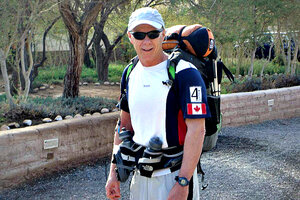 Courtesy of Len Stanmore
A comfortable early retirement left Len Stanmore wondering what comes next. He climbed to a new level of satisfaction when he began to conquer a series of athletic tests around the world, putting him on the verge of setting a world record.
But he didn't really reach the summit of feeling good about himself until he connected those achievements with helping others.
The story starts when Mr. Stanmore sold his successful telecommunications business in 1998 and retired at the age of 49.
"The first year was pretty good: I played golf, I fixed everything around the house, I went on vacation.
"But then, after about a year or so, I really started feeling depressed. I didn't have any challenge in my life; there was no purpose to it."
After having lunch with a business associate who had been mountain climbing, Stanmore decided to try to climb Mt. Kilimanjaro in Tanzania. It was the only mountain he'd ever heard of other than Mt. Everest, the highest mountain in the world, "and I knew that wasn't going to happen."
He was 50 pounds overweight, smoked cigars, seldom exercised, and didn't consider himself to be athletic. "I was not outdoorsy at all. All my friends thought I was crazy," he says. But he went in 2001 "and that was the start of my adventures."
---