Former Islamist seeks to turn the tide of religious extremism in Pakistan
(Read article summary)
Maajid Nawaz has founded Khudi, the first social movement in Pakistan to challenge extremist religious ideas and instead promote democratic culture among youths.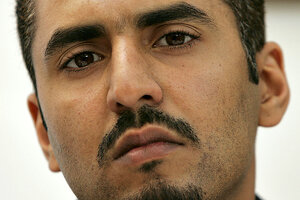 Matt Dunham/AP/File
In the late 1990s, British Pakistani Maajid Nawaz was helping to recruit Pakistani army officers to an extremist Islamist group – with a view to overthrowing the Pakistani government. Now he's using the tactics he learned as an Islamist to try to curb extremism in Pakistan.
"There are, to use a phrase, transferrable skills," Nawaz, co-founder and chairman of the London-based counter-extremism think tank Quilliam Foundation, said in a recent telephone interview.
Now a man courted by the world's top political leaders and a TED speaker, Nawaz was once a top international recruiter for Hizb-ut-Tahrir (HT), a group that seeks to create a Muslim superstate, a global caliphate.
It aims to oust governments by military coups, after first spreading its ideas among the military, intellectuals, and general population. Once in power, its aim is to pursue an aggressive policy of foreign invasion and expansion, and impose its own version of Islam as state law.
Nawaz set up HT cells in Britain, Denmark, and Egypt. In Pakistan, he targeted intellectuals, military officers, and even the Taliban, who at the time were not considered revolutionary enough for HT.
But his life changed in 2002, when he was jailed by the Egyptians. During his time in prison, his ideas were deeply challenged, and in the end he decided to leave HT.
Having played a significant role in bringing about a shift to extremism, he said he felt a responsibility to use his experience and knowledge to try to reverse that work.
---