Neighborhood initiative in D.C. wins federal backing
(Read article summary)
The D.C. Promise Neighborhood Initiative, which aims to lift children out of poverty, involves marshaling schools, nonprofits, and other community organizations to help children in troubled neighborhoods from 'cradle to college.'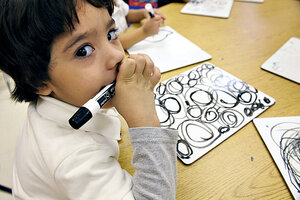 Cliff Owen/AP/File
The D.C. Promise Neighborhood Initiative, one of the country's premier efforts to lift children out of poverty by offering a comprehensive array of educational and social services, has won a five-year, $25-million federal grant to step up its work.
The grant, one of just seven of its kind that the Education Department awarded last month, was an especially sweet victory for the Washington project, which is working to turn around the city's Parkside-Kenilworth neighborhood. Last year, it failed to win a similar award because it missed the application deadline due to technical problems it faced when e-mailing its proposal.
This time, the group's leaders left no stone unturned to ensure the application met all of the federal agency's specifications, says Ayris Scales, the executive director—who now calls the project "the comeback kid" and says she feels like "Cinderella at the ball."
The Washington effort is among dozens across the country that are following an approach pioneered by Geoffrey Canada, founder of Harlem Children's Zone, which involves marshaling schools, nonprofits, and other community organizations to help children in troubled neighborhoods from "cradle to college."
With strong backing from President Obama, Congress has allocated money each year since 2010 to support projects called "Promise Neighborhoods" across the country. The D.C. group received a $500,000 planning grant in 2010, then made its failed bid last year for a much bigger award to put its plans into effect.
---