National Day of Service calls on Americans to help others
(Read article summary)
On Saturday Jan. 19 in Washington, D.C., as well as around the United States, a National Day of Service will find Americans volunteering in myriad ways to serve others.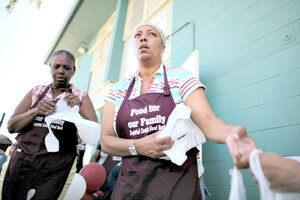 Lucy Nicholson/Reuters/File
This weekend Washington D.C. will mark the inauguration of President Obama into a second term of office. It also will honor civil rights leader Martin Luther King Jr. with a national holiday.
But this Saturday (Jan. 19) in Washington, as well as around the country, is also a National Day of Service, calling on Americans to volunteer to serve others. In just one event some 10,000 people are expected to gather at the D.C. Armory for the biggest single service project of the weekend – putting together 100,000 thank-you "care kits" for US military personnel, disabled veterans, and civilian first responders.
A major force in organizing the effort is the Points of Light Foundation, created in 1990 after then-President George H.W. Bush invoked the vision of volunteers as a "thousand points of light" in his inaugural address the previous year. Points of Light describes itself as "an independent, nonpartisan, nonprofit organization that encourages and empowers the spirit of service."
From President Kennedy onward presidents "all have this shared belief in a call to the American people" to engage in civic-minded activity, says Michelle Nunn, the CEO of Points of Light. The fact that presidents of both political parties, right up to Mr. Obama, have been strong supporters of volunteerism "shows the common ground around service," she says.
---