Indian-American looks homeward to help the needy
(Read article summary)
Rakesh Agarwal, a successful businessman, has a track record of philanthropy in western North Carolina. Now he's extending his work to include his home country of India.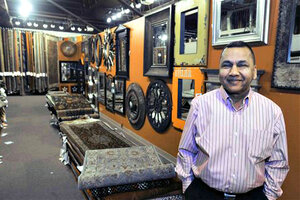 Patrick Sullivan/AP Photo/The Times-News
Nearly 30 years ago, Rakesh Agarwal arrived in America with $20 in his pocket. Now a Hendersonville, N.C., resident and the owner and CEO of Rug and Home, Mr. Agarwal has created a nonprofit organization to help the poorest of the poor in his native India.
When Agarwal flew into the country all those years ago, he had no clue where he was going. He couldn't find a map in the New Delhi area that had Hendersonville, in western North Carolina, on it. Once in the United States, he scraped and scratched for more than two decades before fulfilling the "American Dream."
His nonprofit grew out of Agarwal's desire to help the people in remote parts of his home country. Agarwal financed a trip to India last year for eight people from Hendersonville and nearby Asheville, N.C.
"I come from an area where 50 to 60 percent of the people don't have running water or electricity," he says. "I wanted to go back and do something for that area."
The team traveled to Bahuti, India, in December of 2011 on a medical excursion. They weren't sure what the pressing needs were, but took antibiotics and other medical supplies to treat a variety of illnesses.
---