Expat Syrian doctors help bind up the wounds of war
(Read article summary)
Doctors in Syria describe being targeted in bombing campaigns and risking death, detention, and torture to treat the wounded, whether civilians or fighters.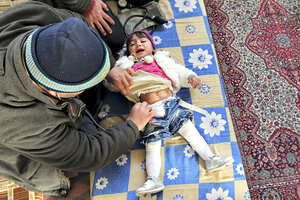 Goran Tomasevic/Reuters
Mounir, a Syrian surgeon working in central England, avoids heart-wrenching TV reports about his native land if he can, worried they may affect his work.
Ever since the uprising against President Bashar al-Assad began in March 2011, Mounir has split his time between practicing orthopedic surgery in Manchester, one of England's biggest cities, and mobilizing emergency relief for fellow Syrians struggling to survive amid war and destruction.
"I never thought there would be such a need in Syria for the profession I'm practicing. I never thought that one day there would be such demand for medical doctors and for basic life-saving procedures," said the 37-year-old, who declined to give his full name.
"As a doctor, I get phone calls from colleagues there -- 'please help us, we are running out of insulin, please help us, we are running out of blood bags, please help us, we need a CT scan' -- which one are you going to help?"
Nearly two years of civil war have left an estimated 60,000 Syrians dead, millions homeless, and a once enviable health system in tatters. More than half the 88 hospitals have been damaged and nearly one third are out of service, according to Syrian health ministry data released by the World Health Organisation.
As a trustee of Syria Relief, a UK-registered charity, Mounir has helped to raise more than 2 million pounds ($3.1 million), mainly from the Syrian diaspora, to send desperately needed supplies, from blood bags and vaccines to flour, clothing, and even ambulances.
---