Creative Connections links kids worldwide through art
(Read article summary)
US students partner with children from one of nearly 50 other countries to exchange their artworks and then share ideas face-to-face via a videoconference.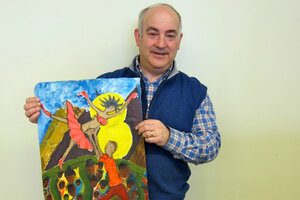 Cathryn J. Prince
Nine-year-old Luise's painting is about more than the wooly white sheep and verdant fields that distinguish her family's farm in Latvia. It's about patience and diligence.
And if the students in Connecticut who see her painting understand this, then Creative Connections has succeeded, says Alan Steckler, founder and CEO of the Norwalk, Conn.-based nonprofit organization.
Through ArtLink, Creative Connection's main program, American students are partnered with children from one of nearly 50 other countries. The children are asked to draw or paint a picture of what they most value in their daily life or culture. After exchanging the artworks, the classes participate in a videoconference, which allows students to share ideas face-to-face in real time.
"The art opens a window into other cultures and gets the children talking about other things," Mr. Steckler says from his office beneath the Stepping Stones Museum for Children. "The students walk away thinking the children they 'meet' are real kids, and they are a lot like me. There are some special differences, but we are more alike than we thought."
Recently, students from the Weston Middle School in Weston, Conn., participated in a videoconference with the Ahliyyah School for Girls in Amman, Jordan. Students discussed the meaning of freedom of choice during the hour-long session.
"It was a real mind opener. They were looking at a picture of the Statue of Liberty, and that led to a discussion about the choice to wear a head covering, or not, if you are Muslim in Jordan," Steckler says. "The art allowed the students to get into the values, and the issues, of a different culture."
---