Karen Olson taps religious groups to help the homeless
(Read article summary)
Family Promise now has 182 affiliates in 41 states helping families in need achieve independence and self-sufficiency.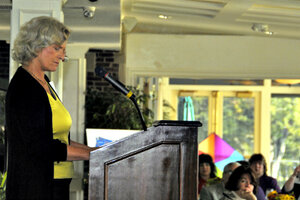 Courtesy of Karen Olson
In the early 1980s Karen Olson was in a job she enjoyed, working on marketing projects for a pharmaceutical company.
Then she met Millie.
The 70-something woman was living on the street in New York City when Ms. Olson encountered her on her way to a business luncheon. Olson's awareness of the homeless problem in the city already had been heightened by those she had come across previously. She decided to buy Millie a sandwich and orange juice.
The two began to talk and learn more about each other. In the months that followed, Olson began to prepare sandwiches with her two sons to bring to New York City for the homeless population on alternate Sundays.
Fast forward two years, and Olson launched a national organization geared toward taking homeless families off the streets and helping them to achieve self-sufficiency.
Today Olson is founder and president of Family Promise, formerly the National Interfaith Hospitality Network, a volunteer-driven nonprofit organization that works to provide shelter, meals, and support services to homeless families, along with family-mentoring services and job-training programs.
The organization, celebrating its 25th anniversary, now has 182 affiliates in 41 states, with new affiliates joining every year. Its mission, helping those most in need to achieve independence and self-sufficiency, stems from Olson's personal volunteer work.
"I always had a desire to make a difference in people's lives," she says. "I felt strongly that I should involve the religious community – not just churches, but churches, synagogues, and mosques."
---