Zardozi helps Afghan women stitch together their own businesses
(Read article summary)
The NGO Zardozi helps women in Afghanistan start their own businesses by using a skill that most of them already know: sewing.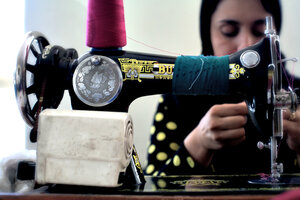 Lalage Snow/Oxfam 2012
Dasht-e-Barchi, Afghanistan
Kamila Haidary is just 24 years old, but she has already given birth to seven children, only four of whom are alive today.
Money is tight for her family, who live in this poor, dusty neighborhood on the outskirts of Kabul. So she has started a business – just a small one – to help supplement her husband's income.
That's a story that you don't hear very often in Afghanistan. In this country, women, especially women in poverty, usually have no options beyond marriage and motherhood. But a nongovernmental organization called Zardozi is trying to change that, at least for the roughly 1,000 women that the project is able to reach. The idea is to help the women start their own businesses, even if tiny ones, by using a skill that most of them already know: sewing.
"One of my friends heard about Zardozi, and she told me about it. Now I'm earning good money," says Ms. Haidary as she sits cross-legged on the floor of Zardozi's regional office, where a small crowd of women are gathered to sew and chat on a recent weekday morning. "I used to just do sewing work on my own, but since I joined Zardozi I have so many orders that I can afford to hire homeworkers to help me."
Working in Kabul and three other Afghan cities – Mazar, Jalalabad, and Herat – Zardozi offers women training on topics such as design, quality assurance, pricing, leadership skills, and business planning.
The organization – which is funded by the Dutch nonprofit group Oxfam Novib and the governments of Britain and Sweden – then connects the women with shopkeepers who buy their shirts, pants, pillowcases, and the like. Sometimes the organization offers the women small loans, as little as $100, to help them expand their fledgling businesses. In return, the women pay a membership fee of just $1 per month.
---