An oasis of community and support for Latina moms
(Read article summary)
In California, many Latina mothers find themselves cut off by domestic responsibilities and language barriers. But with the help of trusted mentors, they're learning new skills and strengthening their support networks.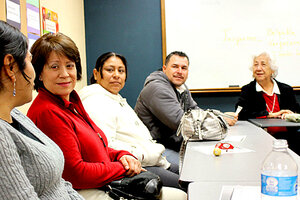 Sena Christian
Maria Leon grew up in northern California as the child of a single mother who worked long hours and spoke little English. Back then, in the late 1980s and early 1990s, her hometown of Lincoln in Placer County had only a small Latino population, a demographic that has grown over the decades. She was often left alone, struggling with her anger. She got in fights, was defiant to authority figures, and regularly missed school.
"I got away with it because of the language barriers with my school and family," says Leon, now 35 years old. "I would have appreciated a mentor at that time."
Today, Leon herself is a mentor, or "promotora," and one of many in her community. These women, who now number 10 in Placer County, form a new and crucial link between the Latino community and the broader society, which they had previously been separated from by barriers of language as well as by a lack of knowledge about how to interact with schools, hospitals, and other key institutions in the United States.
Because of the traditional role of women as caretakers in Latino communities, these mentors are primarily female. But there are three male mentors in the county who work specifically with boys and men.
Leon helps parents learn how to better engage with their children. A year ago, she began working with Latino girls 13 to 17 years old in Placer County. The problems she saw included lying, truancy, drug use, and early sexual activity. The parents knew about these behaviors, but said they felt unprepared to handle them. Some had difficulty communicating with law enforcement or school administrators because of language barriers. For others, fear over their citizenship status inhibited them from speaking up. As a promotora, Leon can help parents leap these hurdles and get more involved, both with society at large and with their own children.
---