Zimbabwe's farmers dig in to capture a deluge
(Read article summary)
With no access to groundwater, and no help from local authorities, farmers in drought-stricken Zimbabwe have grouped together to dig ponds to capture precious rainwater.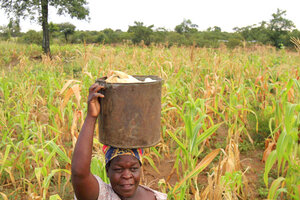 Philimon Bulawayo/Reuters/File
For the smallholder farmers in arid Esigodini, Zimbabwe, the heavy downpours that have hit the area in recent months have been a godsend.
"We have not seen this much rain in years," says farmer Brenda Zulu.
The rains first came in January, destroying homes and claiming lives as people were caught unawares. But farmers struggling to grow crops and raise livestock in the traditionally low-rainfall area surrounding Zimbabwe's second-largest city, Bulawayo, realized that if they could find a way to harness the deluge, they could use it to help their thirsty farms.
So the villagers grouped together and started digging.
"It was a community suggestion that we dig the earth to trap the water," says Zulu as she scooped water from an artificial pond her community created. The size of a small tennis court, the pond now serves as a reservoir for scores of farms in the area.
She uses the water to water her kitchen garden and fill a trough for her small herd of livestock. "It seems to be helping a lot," she says.
Nobody knows exactly how much water the makeshift ponds hold, but Zulu says her community believes it should have enough to sustain their small farms for the next few months.
With no access to groundwater, and no sign of help from the local authorities to deal with worsening shortages, Zulu and her fellow villagers feel that making their own ponds could be the only answer.
"It was already a depressed gulley, and we extended it as no one seems to offer solutions for our water problems," she says. "We did this ourselves."
For the farmers in Esigodini, who have experienced successive years of drought, building a lake was an act of desperation, driven by the fear of not knowing when, or how much, rain will next fall.
But experts say Zimbabweans can learn to adapt to changing and increasingly severe weather patterns.
---