Girls just want to have fun ... in high-tech careers
(Read article summary)
Girls Who Code steers young women toward careers in science and technology, fields traditionally dominated by men that face a shortage of workers in the future.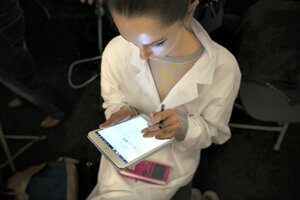 Andrew Kelly/Reuters/File
The stereotype "computer geek" carries with it the usual accoutrements: glasses, game consoles, and lots of alone time. Even as technology has become ubiquitous through social networks and smartphones, one part of that image has remained constant – the geeks are typically guys.
The economic landscape supports this representation. According to a report issued by the US Department of Commerce in 2011, women made up approximately half of the US workforce, but held less than 25 percent of the jobs in science, technology, engineering, and math.
This is troubling in an age when technical innovation is crucial to almost all sectors of the economy. While computing professions are growing at almost twice the rate of the average for all occupations, the National Center for Women & Information Technology estimates that by 2018, the industry will only be able to fill half of its open jobs.
Reshma Saujani founded Girls Who Code (GWC) hoping to recruit women to fill some of these vacancies. On the campaign trail for a congressional seat in 2010, she observed the power of technology in communities of all socioeconomic levels. Despite the growing number of opportunities in tech-related fields, girls didn't seem to be interested.
"I realized that we needed to do something about it, and we needed to start young, focusing on teenage girls, before they've figured out what they want to do with their lives," she said.
At the time there was no existing computer science curriculum tailored to teenage girls, so she assembled a think tank of techies from companies like Microsoft and Google, and set out to create one.
---