From housing to health care, 7 co-ops that are changing the economy
(Read article summary)
How manufacturers, retailers, restaurants, and others are doing business the cooperative way.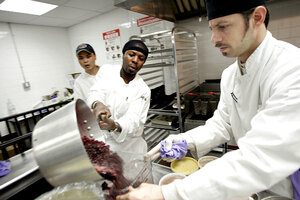 Keith Bedford/Reuters/File
1. Green Worker Cooperative's Co-op Academy
, The Bronx, N.Y.
Ideas for co-ops may flourish, but few people understand exactly how to make theirs real. The Co-op Academy is providing answers. Founded four years ago by Omar Freilla (who recently made Ebony magazine's list of the Power 100), the academy runs 16-week courses that offer intensive mentoring, legal and financial advice, and help with designing logos and websites.
Run by the South Bronx-based Green Worker Cooperative, the academy guides up to four teams per session through the startup process and has graduated four organizations now thriving in New York City. These include Caracol Interpreters, which is raising the bar on interpreter wages, and Concrete Green, which focuses on environmentally sound landscaping. Six more co-ops are in the pipeline.
"I'm amazed at how little knowledge and information is out there for the average person about how co-ops function and how to start one," says Janvieve Williams Comrie, whose mother-owned cooperative Ginger Moon also came out of the program. "That's one thing the Co-op Academy really provides, the hands-on know-how."
Even money for tuition ($1,500 per team) gets the treatment. Mr. Freilla is adamant that teams fundraise to cover that cost—even if they can foot the bill themselves.
"By fundraising for the registration fee, you are promoting the vision for your cooperative, gaining supporters, and creating a buzz before the program even starts," he says. "That is just the kind of support that will propel your business forward, and while you're doing it you'll be getting an early opportunity to see just how well you and your teammates work together."
2. Red Clouds Collective
, Portland, Ore.
---