A tea shop in Atlanta sends young women in India to college
(Read article summary)
Katrell Christie uses profits from her Atlanta tea shop to finance college educations for orphaned girls in India.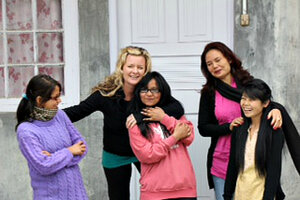 Courtesy of Dustin Chambers
Katrell Christie stands behind the counter of her tea and coffee shop in Atlanta. Threadbare oriental carpets cover the marred concrete floor. Bookshelves line the walls, and secondhand tables with ancient lamps are scattered around. Sumptuous cakes and thick cookies are displayed under glass.
In this shop, known as Dr. Bombay's Underwater Tea Party, Ms. Christie launched her dream of making college possible for a group of young women in India. Four years after starting, her project now supports the university education of 11 women, gradually adding students each year. In October, she will double that number.
It's not that hard to help people, she says. "I sell cupcakes for $3."
It all began in 2009, two years after Ms. Christie opened Dr. Bombay's. A student from the nearby Georgia Institute of Technology came into the shop and began pestering her to go to India and help with a handicraft project.
At first Ms. Christie said she was too busy running her business, but eventually agreed. Once there, she took a side trip to Darjeeling, India, to look at tea plantations, thinking she'd find a new source of tea for the shop.
There she met three girls from an orphanage. They told her they would be forced to leave their orphanage within a year, since it only serves children up to age 16. Their futures seemed grim. Having no parents and nowhere to go, they could end up living on the street, where sex trafficking is one of the few avenues to making money, and where AIDS and tuberculosis (TB) are a big risk.
"I made a bunch of promises," Christie says. She told them she'd come back in six months and help. Then she had to figure out a way to make it happen. "I didn't know what to do."
Back in Atlanta, she put a jar on the counter, asking for money to help. Her shop was filled with used books solicited from customers and others in the surrounding Candler Park neighborhood. Sold for $1 apiece, the books raised money for the local Mary Lin Elementary School. Ms. Christie redirected the book funds toward India.
---