Operation Jersey Shore Vacation offers an oceanside respite to US military families
(Read article summary)
A tiny New Jersey charity provides a place for military families to vacation along with gift cards for groceries, free meals, and island outings.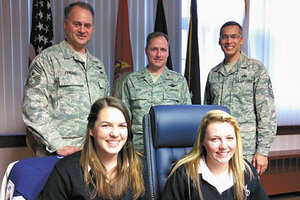 Courtesy of Operation Jersey Shore Vacation
Summer is a time when many families take vacations to exciting or exotic places, whether across the world or just a drive down to a shore town along one of the coasts.
But for American military personnel and their families, such a luxury is not usually an option.
Operation Jersey Shore Vacation, the idea of a high school teen, is an innovative project that seeks to change that.
Lexi Sinor was a junior in high school when, in 2009, she came up with the plan to work with her father, Randy – a real estate agent – to identify homeowners with summer homes who would be willing to donate a week-long stay to members of the armed forces to allow them the chance to partake in a luxury so infrequent for those in the military.
After Lexi moved to Utah to attend college, her sister, Amie, now 17, stepped up to the plate. And the project quickly became something Amie is passionate about.
"It is great to see them when they come in," Amie says of the families they provide vacations for. "I have been raised to give back whenever I can … it makes me feel good."
Now in its fifth summer, Operation Jersey Shore Vacation works closely with military leaders at Joint Base McGuire-Dix-Lakehurst in central New Jersey and with the owners of summer homes to identify qualified military families and to secure a home for them to stay in for a week at the New Jersey shore.
---