Goldie Hawn: What's she doing in Brazil?
Goldie Hawn and supermodel Linda Evangelista were among the celebrities that showed up for an AIDS research and prevention fund-raising gala in Rio de Janeiro. Goldie Hawn was among 300 people who attended the $2,500-a-plate black tie gala.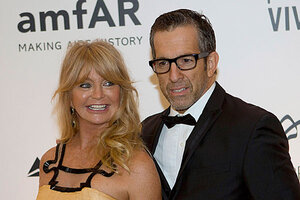 (AP Photo/Silvia Izquierdo)
Supermodel Linda Evangelista, actress Goldie Hawn and designer Kenneth Cole lent their star power to a glitzy charity dinner and auction that raised hundreds of thousands of dollars for AIDS research and prevention.
Around 300 people in their evening finest showed up Friday at Rio de Janeiro's stately Copacabana Palace hotel for the $2,500-a-plate black tie gala organized by the international nonprofit organization amfAR. The AIDS research foundation hosts some of the world's most glamorous events, including the annual dinner during the Cannes Film Festival that's become a virtual Who's Who of the movie business.
This was the organization's first event in Rio, which is in the midst of its own film festival, and Brazilian celebrities were out in force. In addition to the gaggle of lanky models who towered over the rest of the crowd, there were designers including bikini queen Lenny Niemeyer, socialite Andrea Dellal and her daughter, punky model Alice Dellal, as well as several of the country's top soap opera actresses.
---