What Palestinians will do with $7.4 billion
About 70 percent of the money from international donors will pay public salaries, while 30 percent is expected to be used for development, food relief, and other assistance.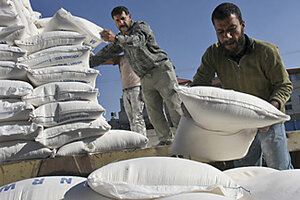 Adel Hana/AP
When donors met in Paris last month and awarded $7.4 billion in aid to the Palestinians, a larger-than-expected package to be distributed over the next three years, many in the international community showed a new readiness to support the new Israeli-Palestinian peace push and provide a safety net for it in the form of economic stability.
Now Palestinian and foreign observers alike are keen to see how and where the money is spent, putting senior officials on the spot with questions of how they intend to avoid the corruption and mismanagement that characterized the Palestinian Authority (PA) in the past.
But unlike international relief in the past, this aid package – the biggest since the establishment of PA in 1994 – comes with meticulous oversight mechanisms that make it much more difficult for money to be siphoned off or embezzled, a senior Palestinian official says.
Moreover, various unions representing public employees have gained muscle and stature and are determined to see an appropriate portion of the money go to civil servants, some of whom have gone unpaid for months at a time in the past two years.
Cairo Arafat, the director general of Aid Management and Coordination in the Palestinian Ministry of Planning, says that it's no longer useful to speak of corruption as a blanket term.
"With any kind of program, you get the normal type of corruption. But there's so much competition now and so much talk of corruption that people are more aware of it and more likely to speak out about it than they were before," says Ms. Arafat, who is not a relative of the late Palestinian leader, Yasser Arafat.
---