A wedding marks Baghdad family's rising optimism
The Monitor checks in with the Methboub family in Iraq as they celebrate vows – and improvements in their lives.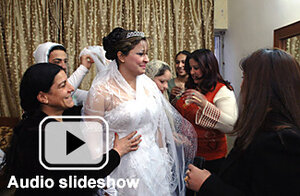 Scott Peterson/Getty Images
It was love at first sight, a rare enough thing amidst the violence of Iraq. But even on the night of her wedding party, Fatima coyly plays hard to get.
"If I am not satisfied, I will change you!" she warns her beloved Bashar. The couple's quirky courtship included Fatima pelting his kitchen window with vegetables when she felt she needed his attention. "I achieved it – she is beside me!" replies Bashar, confidently dismissing her threat, then adding with a mischievous smile: "I have a spare if she runs away."
A household brimming with jubilant singing, dancing, and crying marked the union of Bashar with the eldest daughter of Karima Selman Methboub, a widow whose family of eight children is beginning to see their first rays of hope in five years. The slow but tangible trans-formation in these Iraqis' lives – due partly to a move from a tiny apartment on a bomb-prone street to a safer area of Baghdad – coincides with a dramatic drop in violence in the capital and improved security across much of Iraq.
"We had hope before, but we were not optimistic," explains Mrs. Methboub, standing in the kitchen of the spacious and less threadbare new apartment. "As our situation improves, so does the security. Now we are optimistic. We are living under the wings of God."
This family has suffered the same setbacks that have afflicted all Iraqis since the Monitor first met them in late 2002, as they were bracing for the American invasion. They overcame fear of the war and its chaotic aftermath. They have managed to keep their lives intact during years of ethnic cleansing, kidnappings, and car bombs – several close enough to shatter their windows.
---