Baghdad's brave librarian
Loud talkers, lost books ... and the occasional sniper fire, rocket attacks, and death threats are what Saad Eskander is up against in rebuilding the National Library and Archive.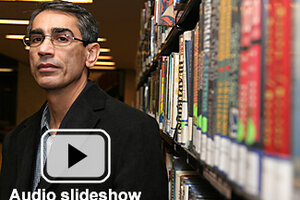 Nicole Hill
Like most librarians, Saad Eskander, director of the Iraq National Library and Archive in Baghdad, has to deal with a number of disturbances: people speaking loudly in the study area, lost books, and the occasional sniper fire or Katyusha rocket attack.
"Our building was rocketed a few times," says Dr. Eskander, in the same level tone he might use to describe a trip to the grocery store. "It was mortared and part of our fence was destroyed.... Stray bullets and sometimes snipers' bullets smashed some windows as well, including my office."
Though none of Eskander's staff have been injured in these attacks, five have been killed in sectarian violence, and death threats have displaced dozens of his 300-plus staffers.
Eskander hardly seemed the Jack Bauer of librarianship as – during a recent tour of the US – he recounted his experiences in the Cambridge apartment of his colleague, an archivist at Harvard University. A slight man, Eskander is soft-spoken and not easily excitable. His wire-rimmed glasses and slick sports coat belie the stereotype of librarians committing 30-year-old fashion faux pas. But then again, Eskander is not your typical librarian.
---
Follow Stories Like This
Get the Monitor stories you care about delivered to your inbox.