Even with sanctions, Syrians embrace KFC and Gap
With American goods already flooding Damascus, analysts say lifting restrictions will help counter Iran's influence.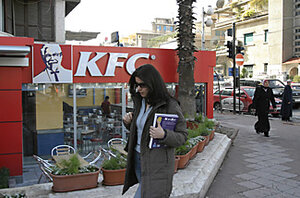 Louai Beshara/AFP/Getty Images
The brightness of the KFC is hard to miss on the drab Damascus street corner with its iconic Col. Harland Sanders logo, bringing a bit of Americana to a country that Washington has long deemed one of its chief nemeses.
But the political bitterness between the two countries has not dampened the appetite for US products here – nor has it stopped American companies from finding a way past sanctions in order to do business in Syria.
American goods are indeed booming here and its iconic brands are popping up all over Damascus despite years of this country's own self-imposed economic isolation and the US trade sanctions that were imposed in 2003 to punish the Syrians for allegedly meddling in Lebanon.
President Bashar al-Assad's push to liberalize the economy and nudge Syria into the age of globalization is providing a back door for everything from Betty Crocker cake mix to Johnson & Johnson baby oil. Even Cargill, one of America's largest private companies, is currently building a sugar refinery in the town of Homs.
---