US-Iraqi troops sweep Al Qaeda village haven
Soldiers find major weapons caches, a bunker, and an insurgent expense report in Diyala Province.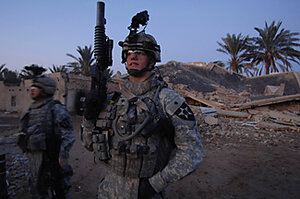 Scott Peterson/Getty IMages
The first sign of the presence of Al Qaeda in Iraq (AQI) looms out of the frozen darkness on the edge of this remote village. A white car is found hidden under a canopy of trees. It's not rigged to explode, but it was used by the insurgents. Inside, they've left behind a list of expenses on a yellow notepad.
For the month of November, the ledger notes that AQI paid snipers 273,000 Iraqi dinars ($230). Roadside bombers got twice that amount. The largest single expense: $3,000 paid to "martyrs" and their families.
The document is topped with an obscure name for the militant cell, and signed simply: "The Management."
Inserted overnight by helicopter earlier this week, US Army soldiers (from Troop A, 2nd Squadron, 1st Cavalry Regiment) and an Iraqi Army platoon, crept into this village along the Diyala River, 20 miles northeast of Baghdad, hunting for insurgents – and for local villagers willing to take them on. This patrol is part of a broader US-Iraqi military effort in the Diyala Province, the heart of the insurgency in recent months.
The detailed expenses – and the fear on the Iraqi residents' faces in this Al Qaeda stronghold – speak to the insurgents' continued influence here. Yet the hit-and-miss nature of gleaning information and detaining suspects, who often claim ignorance to avert suspicion, makes the mission difficult.
---