Palestinian group sounds like Al Qaeda but forgoes violence
Hizb ut-Tahrir moves to fill void left by Hamas in the West Bank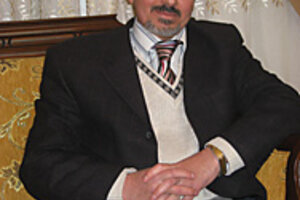 Ilene R. Prusher
A new fundamentalist player is emerging in Palestinian politics. The group sounds like Hamas – or even Al Qaeda – but doesn't support suicide bombings or secret militias. In recent months, it has shown it can put tens of thousands of supporters into the streets.
Founded in Jerusalem by a Palestinian-Jordanian judge more than 50 years ago – and once considered a quiet if quirky religious group with a utopian vision of returning to a time when the Muslim world was united – Hizb ut-Tahrir (the Party of Liberation) is now filling a hole left by Hamas in the West Bank.
"They've taken a decision to come out of the closet. The fact that they are out there competing for control of the political vacuum is a new phenomenon," says Ehud Ya'ari, one of the foremost Israeli commentators on Palestinian and Middle Eastern affairs. "There have been a series of rallies in West Bank cities, in which all of sudden they have flexed muscles to show how many people they can get on the street to a demonstration. They've been spending a lot on publishing literature on the caliphate."
He notes that since the group officially eschews violence, preferring instead to wait for some "coup de grace" in the form of a divinely ordained moment of international jihad, Israeli and Palestinian security services have not viewed them as a major threat. But, he quips, "they are not a vegetarian movement."
Active in 45 countries
Indeed, in many of the places where Hizb u-Tahrir is popular – the party says they're active in 45 countries – governments often see them as a feeder organization to more extreme groups.
---