New blockade squeezes Gaza residents
Israel refused to reopen crossings or allow crucial fuel supplies into Gaza on Monday, despite UN warnings that vital food aid could be suspended within days.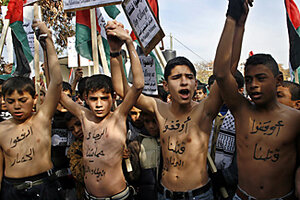 ZUMA Press
Yusuf Arafat says Dec. 19, the day his first child, Mara, was born, was the happiest of his life. But since doctors found Mara was suffering from a potentially deadly condition he says he's been "living a nightmare."
Young Mara is seeking key medical care she can't get in the Gaza Strip, which has now been cut off from all but basic humanitarian supplies by Israel, in retaliation for rocket fire at Israeli towns.
Doctors there say Mara needs to be treated at a pediatric hospital in Tel Aviv, but the family has been struggling, and failing, to get the needed permissions to enter Israel for almost a month now, while Mara's condition deteriorates in an incubator at Gaza's Al Shifa hospital.
Her fate is now controlled by a conflict that her parents can barely comprehend, the decision by militants inside Gaza to continue to lob rockets at Israel, and Israel's decision to take a tough line against all of Gaza's citizens, not just those who attack it.
Israel cut off fuel supplies to Gaza this week. The move has already led Palestinian authorities to shut down the lone power station in the territories and has medical officials warning that their supplies of diesel for their generators are running low, forcing them to start making choices about whether they should cut power to wards like the one Mara's in, or in other locations where surgeries are being carried out. A Gaza health official alleges that 60 Palestinians have died in the past month because they couldn't get out of the strip for medical care.
While Israeli Prime Minister Ehud Olmert promised on Monday he would allow humanitarian aid to flow to Gaza, he told legislators he was still in a tough frame of mind. "As far as I'm concerned Gaza residents will walk, without gas for their cars, because they have a murderous, terrorist regime that doesn't let people in southern Israel live in peace."
---