Gaza busts out of its blockade
A new hole opens in the Arab-Israeli peace strategy of isolating Hamas.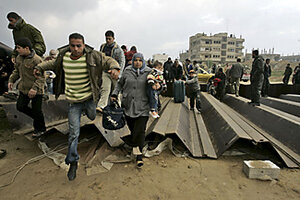 Hatem Moussa/AP
In a coordinated effort using explosives and bulldozers, militants in the Gaza Strip pulled down much of a seven-mile border fence with Egypt Wednesday, allowing tens of thousands of Gazans to cross into Egypt to buy everything from fuel to baby formula.
The breach, which Egyptian security forces did nothing to contain on President Hosni Mubarak's orders, is the biggest challenge yet to Israel's seven-month-old economic blockade of the Gaza Strip and a major challenge to Israeli, US, and Egyptian efforts to weaken Hamas, which seized control of Gaza last June. A UN official estimated that more than 200,000 people crossed the border Wednesday.
The secular Egyptian government would like as much as Israel to see Hamas isolated and weakened – the Islamist movement is an ally of Egypt's most powerful opposition group, the Moslem Brotherhood. But Mr. Mubarak apparently calculated that he was paying an ever steeper price for backing an international policy that, in the eyes of most Arabs and Egyptians, amounts to collective punishment of Gaza's 1.5 million citizens.
---