Blockade can't divide some Israeli, Palestinian friends
Despite conflict, Israelis try to help Gazans to whom they have longstanding ties.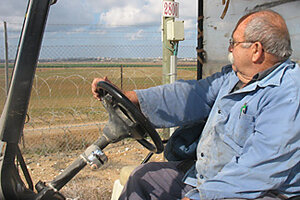 Josh Mitnick
Kibbutz Kfar Azza, Israel
Their homes separated by a wheat field, barbed wire, and Israel's blockade of the Gaza Strip, it's been more than two years since Amir Efrat last saw the Gazan who helped him maintain the water systems in this collective.
But he has talked to him by phone – and could hear the despair that lurked behind the small talk. And so, about a month ago, he instructed the kibbutz treasurer to wire 500 shekels ($135) to an account in Gaza to help his unemployed friend support a family of nine children.
His friend never requested help, but "I felt him ask," says the rumpled kibbutznik. "There's no work. It's difficult."
The impoverished Strip has grown ever more isolated since Hamas took charge last June. But that hasn't choked off personal ties between Israelis and Gazans who once worked together daily. Talking regularly by phone, they update each other about families and friends – and about the toll of the ongoing hostilities. Transcending the politics that divide them, they reach out as best they can as individuals – the Gazans inquiring whether anyone has been hurt by the Qassam missiles fired by Palestinian militants and the Israelis asking about their troop movements inside Gaza.
Though the Israelis avoid politics, the cross-border friendships leave them conflicted about bringing relentless pressure to bear on Gaza's population of 1.5 million to stop the rockets that are fired toward cities and towns around Gaza. While only six rockets have landed on the kibbutz, hundreds have hit Sderot, just a five-minute drive to the north.
"The power outages are just, but it still breaks your heart," says Mr. Efrat, who points out the kibbutz's children's house, reinforced against the rockets that have fallen on Kfar Azza. "I don't think [Gazans] need to suffer so much. It definitely plays into the hands of Hamas."
---