Al Qaeda goes north: Police chief killed in Mosul
The provincial police chief died in a suicide bombing Thursday while inspecting the site of a major bombing in Mosul.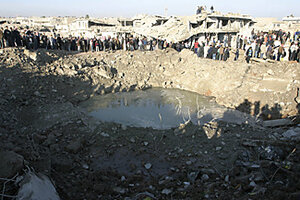 Reuters
The police chief of the northern Iraqi province of Nineveh was killed by a suicide bomber dressed in a police uniform Thursday in the provincial capital of Mosul, according to the US military. He had arrived to survey the scene of a major bomb attack that had devastated an entire neighborhood the day before.
Brig. Gen. Saleh Muhammad Hassan al-Jubouri is the second Iraqi provincial police chief to be killed in less than two months and his death underscores the fragility of the security situation in northern Iraq which has seen numerous attacks in recent weeks. Al Qaeda-linked insurgents have fled to this area from Baghdad and Anbar Province to the south and are targeting new citizen militias, US officials say.
Al Qaeda in Iraq's "first choice [as a base of operations] was Anbar, and Mosul is the best substitute for Anbar," says Mustafa al-Ani, an analyst with the Dubai-based Gulf Research Center.
General Jubouri had only been the provincial police chief for two months, the province's deputy governor Khasro Goran told the Monitor in a telephone interview from Mosul.
---