Hamas gains edge as border crisis eases
Palestinian militants and Egypt restored some order on the border Sunday, and Hamas gains leverage in negotiations.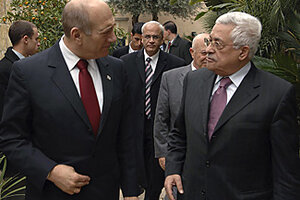 Amos BenGershom/Reuters
The Gaza border crisis showed signs of easing Sunday. The militant Palestinian group Hamas, which controls the territory, encouraged Gazans to go home after hundreds of thousands had streamed across the Egyptian border in the past five days.
At the same time, Egypt tightened security in the border town of Rafah and began repairing the barriers, breached by Hamas, that separate it from the impoverished coastal strip of 1.5 million Palestinians.
But as the holes are patched, analysts say Hamas not only has broken out of its physical isolation, but is emerging with a stronger negotiating position on several fronts. "At this moment, Hamas is the only address for discussing the Egyptian-Gazan border regime. Hamas is also the only address for Israel right now to solve the practical problems of the open border. If this isn't a victory, I don't know what is," says Yaron Ezrahi, a political science professor at Hebrew University.
He suggested two scenarios for the fallout of the border problem. One, which he sees as a positive, is that "it could encourage four-way negotiations [between Israel, Egypt, Hamas, and Fatah] which might result in practical solutions and accommodations. But, the downside, he says, is the "worsening of the relationship between Israel and Egypt, and disempowering [Palestinian President Mahmoud Abbas] to even claim that he even speaks for Gaza."
---