Dimona bombing: Suicide attack in Israel first in a year
The attack raises concerns that militants can enter Israel from Egypt.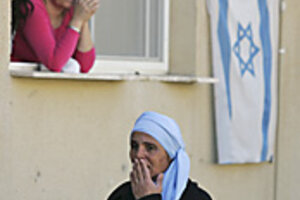 Yehuda Lahiany/AP
A Palestinian suicide bomber blew himself up at a shopping area Monday in this small town that is known to house Israel's secret nuclear program, killing one woman and injuring 11 other Israelis.
Israeli authorities said they were investigating exactly how the attackers – two men wearing explosive belts, one of whom was shot and killed before he could detonate his belt – had infiltrated Israel through Egypt. But a presuicide video by two young men in Gaza, filmed a week ago, made it clear by day's end that bombers had left Gaza during last month's break in the border wall with Egypt, gone to Gaza, and then had entered along the porous border with Israel.
Hard-liners in the coalition of Israeli Prime Minister Ehud Olmert claimed that the breach in the Gaza-Egypt border – created last month by Palestinian militants and sealed on Sunday – was to blame, and that negotiations with the Palestinians should stop.
"We need to return to the formula that we need to stop terror, and only after that we will speak, if there is [someone] with whom to speak," says Eli Yishai, the minister of industry, trade, and labor, while surveying the site of the attack. Mr. Yishai, also a deputy prime minister, is the head of Shas, an Orthodox Jewish party that has threatened to leave Mr. Olmert's coalition if the prime minister engages in discussions to divide Jerusalem into Israeli and Palestinian sections.
---