Iran sees less threat in exiled MKO militants
Some 100 members of the Iranian antiregime group have left a holding camp in Iraq in recent weeks. Iran says amnesty offer holds.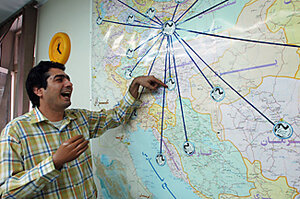 Scott Peterson/Getty Images
– Gholam Reza Sadeghi felt certain of his fate if he ever returned to Iran: torture and execution, given his years as a member of the antiregime Mujahideen-e Khalq, or "People's Holy Warriors."
But stuck in a crowded camp in Iraq with 3,400 other members of the MKO under US military guard, Mr. Sadeghi finally had had enough. He wanted out, and to see his son.
So he came back to the Islamic Republic, which imprisoned him for five years in the 1980s for participating in a group labeled "terrorist" by both Washington and Tehran. Yet some American officials view the MKO – disarmed but still intact – as a possible tool of regime change against Iran. And the MKO's continued presence in Iraq aggravates US-Iran tensions.
What Sadeghi found was a soft-touch amnesty that he had never been told of in the MKO camp. His case could resonate with the 100 or so other Iranian militants who have been allowed to leave the camp in recent weeks, afraid to return to Iran and running into trouble in Kurdish northern Iraq and upon entering Turkey.
"Because I had been in prison, I expected to go back to prison, torture, and execution," says Sadeghi, who was detained for a week and then let go. "They said [the MKO] is not a threat. [They said,] 'We know you were a victim yourself, who thought you were doing something good for your country but were deceived by a cult.' "
---
Follow Stories Like This
Get the Monitor stories you care about delivered to your inbox.