Turkey votes to lift head-scarf ban, but battle continues
The country's leading secular opposition party has vowed to appeal this weekend's decision to lift a head-scarf ban to Turkey's top court.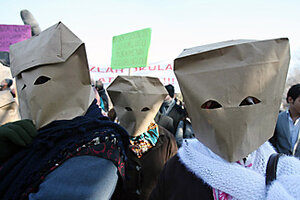 AP
With its vote Saturday ending a decades-old ban on wearing head scarves in public universities, Turkey's parliament may have marked a historical moment in the ongoing struggle between religion and secularism in this predominantly Muslim country.
But concerns remain in Turkey that the government's zeal for lifting the ban could undermine other reforms, particularly those relating to democratization and the country's ongoing European Union membership bid.
"Some intellectuals [who support the government] are starting to have second thoughts about whether [it] has a well-defined strategy for change for Turkey, and what triggered this doubt is the priority that the government has put on the head-scarf issue," says veteran Turkish journalist Yavuz Baydar, a columnist for the English-language newspaper Today's Zaman.
While 60 percent of Turks said in a recent poll that they supported ending restrictions on Islamic head gear, the reaction from the country's secular establishment has been forceful, meaning the issue may not be settled just yet.
Although Turkey's powerful military, considered the ultimate guardian of the country's secular system, has, for now, remained quiet on the issue, the Republican People's Party (CHP), the main secular opposition party in parliament, has vowed to appeal this weekend's vote to the Turkey's top court..
"The aim [of the legislation] is to erode the principle of secularism in the Constitution," said Kemal Anadol, spokesman for the CHP, at the start of the debate in parliament last week.
---