Many Iranians say revolutionary ideals still unmet
In Tehran Monday, tens of thousands celebrated the 29th anniversary of the Islamic Revolution in 1979.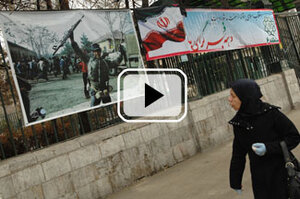 Scott Peterson/Getty Images
To honor the anniversary of Iran's 1979 Islamic revolution, the Bayuni family spent days preparing for the annual anti-American effigy contest. First prize: a gold coin stamped with an image of revolutionary leader Ayatollah Ruhollah Khomeini.
So as tens of thousands of Iranians rallied in central Tehran on Monday, the family added entries to the competition: one showed Iran choking America and Israel; another showed the United States capturing all the globe except Iran, which was protected by barbed wire.
Many effigies – and countless homemade US and Israeli flags – went up in flames, but not theirs: "We are keeping them," says wife Sara, "to see what the US will do with the world."
Heated anti-US rhetoric has been a constant in Iranian political theater for a generation. But despite the fanfare Monday, this widespread show of nationalist support is mixed with disappointment that the revolution has not lived up to its original promises of freedom, justice, and prosperity.
"I work very hard all year just to earn enough for the next rent rise, and still I do not have a weekend free to be with my wife," says Reza, a government employee who says he is religious. "I don't have peace of mind. With all our natural resources, I have nothing. I feel disappointed."
---