Hezbollah leader's death in Syria could trigger retaliation
Imad Mughnieh, suspected of planning kidnappings, hijacking, and attacks in Beirut during the 1980s and '90s, was killed in Damascus Tuesday night.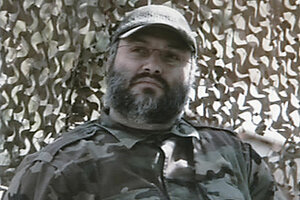 Mohamed Azakir/Reuters
A shadowy senior Hezbollah commander, thought to have masterminded spectacular terrorist attacks in the 1980s, was killed Tuesday in a Damascus car bombing that will almost certainly trigger a retaliation from the militant Shiite group.
Imad Mughnieh's legendary militant credentials, which are thought to include attacks on the US Embassy and Marine barracks in Beirut, made him a prime American and Israeli target for decades and a significant figure in the arsenal of Hezbollah, the Islamist political and guerrilla force that Washington calls a terrorist organization. Analysts say that with Mr. Mughnieh out of the picture, Hizbullah has lost a key asset in its ability to strike in Lebanon or the region.
"This is as big a blow as it gets for Hizbullah security. It's even bigger than killing [Hizbullah leader Sheikh Hassan] Nasrallah," says Magnus Ranstorp, a Hezbollah specialist and research director at the Center for Asymmetric Threat Studies at the Swedish National Defense College in Stockholm.
---