Two Beirut rallies. Two visions for Lebanon.
Supporters of both pro-Western factions and Hezbollah militants honored their respective slain leaders.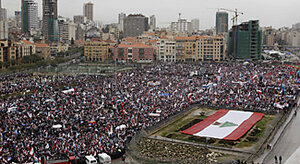 Mohammed Zaatari/AP
Rival visions for Lebanon were on stark display here Thursday as partisans from competing political camps gathered to honor their respective slain leaders.
In downtown Beirut, tens of thousands of Lebanese braved the icy rain to gather in Martyrs' Square to remember Rafik Hariri, the billionaire former prime minister who died three years ago to the day in a massive truck bomb blast, an assassination that his supporters blame on Syria.
A slew of top anti-Syrian legislators delivered fiery speeches demanding the election of a new president and charged Syria with meddling in Lebanese affairs.
Across town, in the Shiite-dominated southern suburbs, Hizbullah chieftains led a funeral ceremony for Imad Mughnieh, the group's senior military commander who was killed Tuesday in a Damascus bombing.
Here, the talk was of an expanding war with Israel, the Jewish state's eventual destruction, and the need to deny the United States any influence in Lebanon.
---