Lebanese turmoil withers 'Beirut Spring' optimism
But many young activists are still struggling to maintain the movement that followed in the wake of Hariri's death.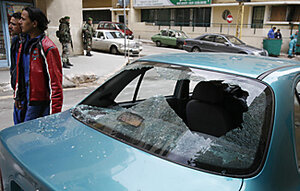 Jamal Saidi/Reuters
Rafik Hariri's assassination three years ago triggered an uprising in Lebanon. Following the death of the former prime minister, young Lebanese poured onto the streets in a movement that not only pushed out Syrian troops, but also gave rise to a new optimism for political change known as Beirut Spring.
Since then, however, much of the ambition of those young protesters has been eroded by a devastating war with Israel, political turmoil, and ongoing violence.
"Spring 2005 was a very euphoric moment for all of us," says Asma Andraos, president of 05Amam, a civil society group. "Everything was going to suddenly change from a feudal and [client-state] country into a modern democratic transparent country. I think we were all very naive."
Leaders of the anti-Syrian March 14 parliamentary coalition had hoped that a rally last week in downtown Beirut to mark Mr. Hariri's death would rekindle the movement's spirit. But the event was overshadowed by the funeral for Imad Mughnieh, a Hizbullah leader killed in Damascus two days earlier. And many Lebanese who participated in the rallies of the Beirut Spring stayed home, partly because of weather, but also out of a sense of disillusion at the turmoil engulfing Lebanon.
---