An Israeli-Arab odd couple seek peace in Hebron
In the volatile West Bank city of Hebron, Israelis and a Palestinian leader met in search of a unique solution to the conflict.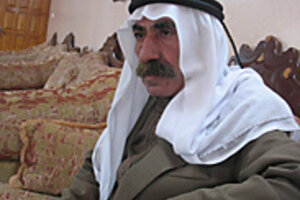 Joshua Mitnick
With a reputation for daily scuffles and extremism, Hebron is the last place one would expect Jewish settlers and a prominent Palestinian leader to sit down together. Now, in an unlikely détente, an Israeli-Arab odd couple believe they may have their own formula for coexistence.
A breakthrough for peace? Symbolically, perhaps.
Sensing that the international push to fast-track Israeli-Palestinian peacemaking spelled an end to their West Bank settlement, Jewish leaders reached out to Sheikh Abu Khader al-Jaberi. Perhaps to their surprise, the prominent clan leader welcomed his longtime Israeli adversaries into his home for a high-profile sit-down earlier this month. His guests snapped pictures and sat alongside their robed host.
The aim was to forge a mutual understanding, one that could benefit both sides and end the violence that has been constant here for decades.
For Elyakim Haetzni, a resident of neighboring Kiryat Arba and a former far-right parliamentarian, the meeting affirmed the permanence of the Hebron's Jewish environs, a notion that many of his own countrymen might dismiss as ludicrous, as most expect any peace deal between the Palestinian Authority (PA) and the Israeli government to include the removal of settlers from Hebron. The settlers also want the sheikh to improve security in the city, and prevent further attacks on settlers.
For Mr. Jaberi, the meeting, which included a local Israeli military commander, is a chance for him to advance his agenda: reopening Palestinian roads and shops after years of military restrictions.
---