In Iraq, Saddam Hussein's old guard remains on fringes
Washington contends that allowing ex-Baathists back into the fold is key to undercutting the insurgency.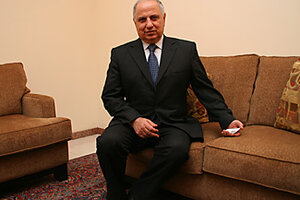 Sam Dagher
Azzawi should have already been re-instated in Iraq's security forces. But he's still languishing on the fringes, like many other ex-Baathists unsure of whether to join the new order or keep pining for the past.
The Saddam Hussein-era colonel, who asked to be identified by only his common tribal name for safety reasons, has seen others like him assassinated and kidnapped. So he stays mostly in his Baghdad home and says he's convinced that there is no place for him within the country's Shiite-led government.
Iraq's parliament passed a new law on Jan. 12 amending de-Baathification legislation – originally introduced by the US administrator L. Paul Bremer in 2003 to purge the government and security forces of senior members of Mr. Hussein's Baath Party – but critics say it is even stricter than the first and offers even fewer chances for thousands of embittered, high-ranking Baathists to return to the fold.
"The new law is twisted and incredibly unfair," says Azzawi. "I am filled with hope now more than ever that the Baath Party will lead Iraq again."
The Bush administration sees reforming de-Baathification as critical to national reconciliation and vital to undercutting support to insurgents. But it has been marred by political missteps and sectarian feuds.
And now some warn that the new law, called Accountability and Justice, could further polarize Iraq and give new cause for Baathists to continue suspected funding of militants.
---