Egypt targets Muslim Brotherhood moderates
President Hosni Mubarak's regime is clamping down on the banned opposition group ahead of next month's local elections.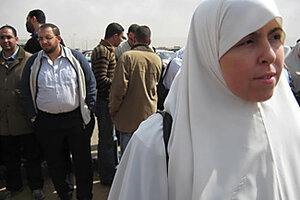 Liam Stack
Hundreds of Muslim Brotherhood members waited under the hot spring sun on the Hikestep Army Base near Cairo on Tuesday to hear the verdict against 40 other influential members on trial for participating in the banned opposition movement.
Many traveled from far away provinces to hear the decision, only to be told that the verdict was being delayed – again.
It was a repeat of a similar scene in February, when around 1,000 Brotherhood members holding banners, photographs of the defendants, and copies of the Koran filled the parking lot of the base, only to be told then that the decision was postponed.
Members of the opposition group, human rights activists, and other reform advocates here see the 14-month-old military trial as part of the government's ongoing crackdown against the Muslim Brotherhood to diminish its political prospects ahead of next month's polls in which more than 10,000 local council seats are up for grabs. They say the trial has targeted key moderates in the movement, as well as important financiers, in an attempt to push it further to the margins of Egyptian public life.
"The fact that they keep delaying the verdict means that this case is purely political and there are no actual, serious charges," says Mohamed Habib, deputy leader of the Brotherhood, who himself was sentenced to five years in prison by a military court in 1995 for membership in a banned group. "The regime is mainly interested in keeping pressure on the Brotherhood to prevent us from taking any action."
Detained, intimidated, on the run
More than 800 Brotherhood members who have been involved in campaigns for local council seats have been detained in recent months and many of its prominent members have gone into hiding around the country.
---