Gaza fighting sidelines Israeli-Palestinian peace bid
President Abbas halted negotiations Sunday. Secretary of State Rice arrives this week.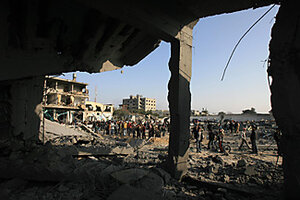 EYAD BABA/AP
With violence surging and diplomacy retreating, the Israelis and Palestinians were lurching dangerously close Sunday to returning to an active state of war.
The weekend's rising toll of deaths and injuries comes on the eve of a visit to the region by US Secretary of State Condoleezza Rice, who is expected to arrive here Tuesday as part of the Bush administration's efforts to push into fast forward a peace process that has been moving, at best, in slow motion.
The escalation is coming from both sides in the conflict, though each blames the other for ratcheting up the violence. Israel says that Hamas has gone too far by shooting longer-range Katyusha missiles at the coastal city of Ashkelon and peppering other southern towns with Qassam rockets. Hamas, meanwhile, says that its launches come in response to Israel's targeted assassinations.
In some of the worst violence in the Gaza Strip in years, Israel launched an intensive air and ground military operation there on Saturday, killing 63 Palestinians. Israel says most of them were Hamas militants, while Hamas says most of them were civilians. During the operation, Palestinian gunmen killed two Israeli soldiers.
Over the weekend, Gaza militants launched several dozen rockets and missiles into Israel. Their target was not just the usual desert town of Sderot, but also Ashkelon and Netivot.
Israel views the attacks on those cities as a move by Hamas to widen the conflict. But Palestinians say Israel is using the attacks as a pretext to launch a larger offensive that it has been planning for months.
---