Iran reformers hemmed in ahead of elections
Hard-liners consolidate their hold as March 14 parliamentary polls approach.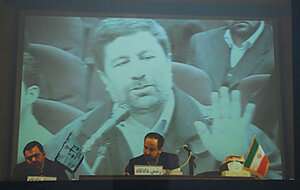 Scott Peterson/Getty Images
Elected four times and with 16 years of lawmaking behind him, Elyas Hazrati might have been considered a shoo-in candidate in Iran's March 14 parliament elections.
But the stocky newspaper editor was among the legions of liberal reformists rejected at first for a vote that, analysts say, is geared to preserve a hard-line conservative majority in parliament.
Mr. Hazrati says he was rejected for being "against Islam," because the reformist newspaper he edits, Etemaad, is critical of President Mahmoud Ahmadinejad and "assaults [his government] on a daily basis."
Indeed, Hazrati has the bearing of a street fighter, has taken part in past pro-reform protests, and has spoken out on behalf of Iranians challenging the regime. In his offices, a prominent photograph shows Hazrati in the dock of Iran's criminal court, which issued an 18-month suspended sentence in 2006 for "campaigning against the Islamic Republic."
"[Conservatives] are very scared of the popularity of the reformists and have many difference among themselves," says Hazrati, whose candidacy for the 290-seat parliament, or majlis, has since been reinstated. "Even if we only have five candidates, we will tell people we are competitive in five seats … and make use of them."
Disqualifications weeks ago swept aside some 2,200 of more than 7,000 hopefuls, most of those excluded reformist candidates whose devotion to the Islamic system was questioned. Among them have been former ministers and governors, a veteran with 50 months' experience in the Iran-Iraq war, another who spent 70 months as a prisoner of war in Iraq, even a grandson of the founder of the Islamic Republic, Ayatollah Ruhollah Khomeini.
---