Palestinians' bittersweet homecoming in Lebanon
Residents started returning Monday to the Nahr al-Bared camp, which was damaged in fighting last year.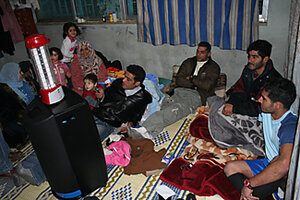 William Wheeler
Rabie Taha's first sign of hope has arrived: 300 prefabricated homes that families are moving into this week on a lot at Nahr al-Bared, the Palestinian refugee camp largely destroyed in fighting last summer between Lebanese soldiers and radical Islamic militants.
After nine months of sleeping on crowded classroom floors of a nearby refugee camp, Mr. Taha's family is among those slated to move into the units in their former community. The move is part of a plan to return 1,500 of the 5,000 families still displaced by August. A prefab school also opened to students Monday.
For many refugees, the joy of returning is dampened by lingering bitterness over the extensive damage at the camp and the half-year delay in returning. "Why all, all, all our camp destroyed," asks Ahmed Abueid. "Why? The battle is finished [six] months, why we not return to our home?"
The reconstruction of Nahr al-Bared has moved forward slowly. It is the largest such effort ever for the UN Works and Relief and Works Agency (UNRWA), which aids Palestinian refugees, including the 30,000 displaced by last year's conflict.
---