Israel's 'religious right' gains clout, complicating peace with Palestinians
The Shas Party, a key part of Israel's governing coalition, is pushing settlement growth.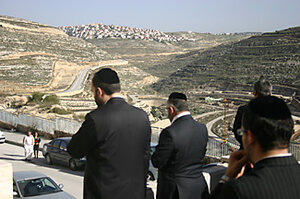 Ilene R. Prusher
On a hilltop far enough from the existing Israeli settlement of Givat Zeev that one needs directions to get here stands the framework of a settlement meant to house up to 750 families.
Eli Yishai stood on an unfinished balcony of one of the new development's shell homes. He's a key coalition partner of Prime Minister Ehud Olmert and the leader of the religious party Shas, which is feted by some and decried by others for having broken Israel's "settlement freeze."
"The world might want us to freeze, but there's no doubt that we look at it a bit differently," says Mr. Yishai. "We will make this into a continuous, meaningful block connecting this whole corridor to Jerusalem. I see many possibilities to start building again, according to the demands of natural growth."
A new spate of West Bank settlement construction not only complicates efforts to resume Israeli-Palestinian peacemaking, but points to a palpable rightward shift in Shas, a party that used to be considered moderate and amenable to the land-for-peace formula on which any solution to the conflict is based.
Israel's announcement last week that it was going to permit the construction of 750 homes here generated criticism from Palestinians and from around the world. The Bush administration reacted by reminding Mr. Olmert that limiting settlement activity is "a road-map obligation" Israel committed itself to as part of the Annapolis Process, referring to last fall's peace talks in Annapolis, Md.
---