Can Egypt broker Hamas-Israel truce?
Cairo is working hard for a cease-fire, partly to curb Iran's growing clout.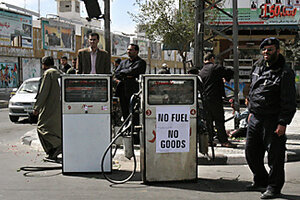 Adel Hana/AP
Have the seeds of an Israel-Hamas truce already been planted in Egypt? A flurry of speculation this week hinted that Cairo is making headway parlaying a recent calm in fighting into a more robust compromise.
Egypt is currently the only country talking to both the Jewish state and the Islamic militant rulers of Gaza about the conflict. Of course, the prospect of more turmoil at its doorstep gives the largest Arab country a new sense of urgency to pursue a cease-fire.
At the same time, the explosive trajectory of last month's escalation – Israel's army killed more than 100 Gazans in just five days while militants extended rocket fire to include a major Israeli city – is strengthening sympathy in the Arab world for anti-Western groups like Hamas, and its patrons in Syria and Iran.
"Iran is playing with many cards as it tries to mobilize the Arab world behind it – its support for [Muslim claims to] Jerusalem ... and for its relationship with Hamas and Islamic Jihad in Gaza," says Nabil Abdel Fattah deputy director of the Al Ahram Center for Political and Strategic Studies in Cairo.
---