Saudi Arabia: slowly opening dialog about human rights
A Saudi commission cites progress on rights awareness. Still, a Human Rights Watch report Tuesday enumerated ongoing abuses, including arbitrary arrests and lack of legal counsel.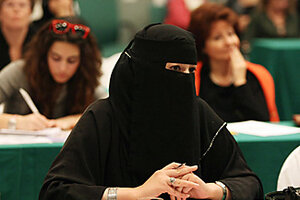 Hassan Ammar/AFP/Getty Images
Seated at an enormous white desk four floors above King Fahd Road's swiftly moving morning traffic, Turki al-Sudairy dialed the number of a deeply worried woman.
"She was in very bad shape when she called me," Mr. Sudairy related, describing Fatma Bishri as distraught because she had not heard from her husband since his arrest for allegedly attempting to join the Iraqi insurgency.
When Ms. Bishri answered, Sudairy soothingly assured her that he had spoken with prison officials, who approved a call, and that she would hear from her husband within hours. He hung up, noting that "she sounds better now."
Delivering such small consolations is part of Sudairy's job as president of Saudi Arabia's two-year-old Human Rights Commission. Formed by a royal decree of King Abdullah Bin Abdul Aziz, the 24-member commission is a governmental body charged with monitoring the kingdom's compliance with human rights standards.
Its creation was part of the monarch's reformist agenda, which is trying to introduce some political and social changes while ruffling as few feathers as possible among the kingdom's substantial conservative constituency of both clerics and ordinary folk.
The commission, which reports to the king, is another sign of what some Saudis describe as an expanding awareness of human rights among the public and government officials. They cite increased discussion in the media and private blogs of such issues as child marriage, domestic violence, and treatment of foreign laborers.
"The big achievement is that it's no longer taboo to talk about human rights," one Saudi says privately.
---